Purchase Instructions
Purchasing from this site is easy. Just click on the link for the item which you require. Enter the relevant payment details either from a Paypal account or alternatively by credit card or bank card.
Once confirmed, I will receive an e-mail from Paypal notifying me of your order, payment and address. Where possible I will despatch the item immediately.
Alternatively contact me direct.
Paypal Accepted
The new version of this product now contains 10 strains of beneficial bacteria, including the one that was recommended in British Homing World magazine.
AS ADVERTISED IN BRITISH HOMING WORLD
Avi-Culture2 Plus Probiotic: Useful for topping up beneficial bacteria (especially during breeding), or to help crowd out harmful bacteria or to replace lost beneficial bacteria following a course of medication (e.g. anti-biotics). Can be refrigerated to extend shelf life but do not freeze. It is not recommended for use in the drinking water. If this method of feeding is used then the water must be changed within 2 hours. Sprinkle over food or mix in with softfood.

Ensure that you have adequate stocks of this very concentrated bird probiotic before your chicks hatch. Give them the best possible start to life.

AVICULTURE2 PLUS
Avi-Culture2 Avian Specific Probiotic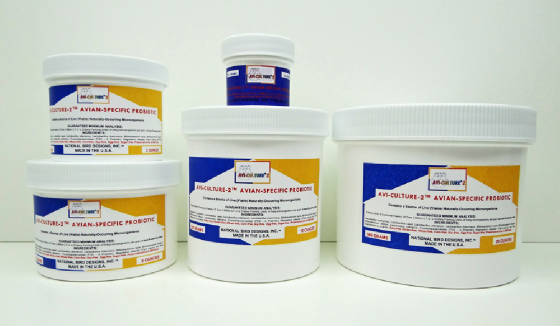 Available in 4 sizes 2, 4, 10 & 20oz
Give those newly hatched chicks a good start to life!
Get the good bacteria in Avi-Culture into them straight away via the eggfood or sprinkle over food.